Observatory Events
August 13, 2022 @ 9:00 pm

-

11:30 pm

Free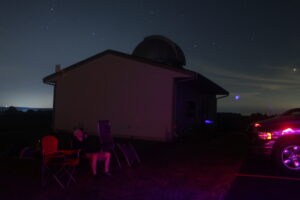 Keep your eyes to the sky this summer to check out these celestial events!
Delta Aquarids Meteor Shower – Peaks on the night of the 28th and morning of the the 29th, and the new moon means ideal viewing conditions. Keep your eyes on the constellation Aquarius for this meteor shower!
 Perseids Meteor Shower –
Famous for producing a bright show, peaking on the night of the 12th and morning of the 13th and radiating from the constellation Perseus; however, they can appear anywhere in the sky.
Saturn at Opposition – At this time, Saturn will be the closest to Earth AND illuminated by the sun, and is brighter than any other time of the year all night long! See if you can spot its rings and its moons!
Head to the Weiskopf Observatory:
Every Saturday (all year round) AND
Every Tuesday (June, July, August). The observatory opens 1/2 hour after sunset and closes 3 hours after sunset.
Call 815-234-8535 x216 for viewing conditions!